The luxurious house of Elton John in Los Angeles
Elton John and his partner David Furnish have several luxury homes around the world: in Atlanta, in England, in France and one in Los Angeles, as the basis for a number of commitments that both have in the West Coast.
The interior of the apartment in Los Angeles, which was slightly less than 300 square meters, shows that it is clearly inspired by the '70s, shared by both hosts. They are fitted with large windows and breathtaking views and are characterized by high quality materials and collector's items. The whole ensemble was designed by the famous designer Martyn Lawrence-Bullard, a friend of Furnish.
In the living area, the chosen color for the walls refers to the particular shade of green that chose to Hermès Kelly bag dedicated to Princess Grace of Monaco, the ceilings are covered with platinum leaf, the sockets along the walls are decorated with inlaid polished steel, the bathrooms are covered with wallpaper quilted glass beads and some tiles were chosen in the color of white gold. The chandelier in the kitchen was once dominated the lobby of the Grand Hotel et de Milan.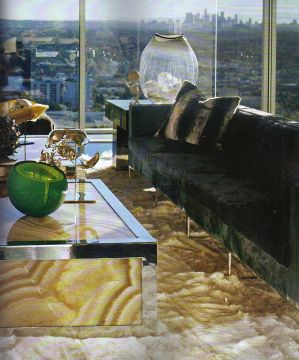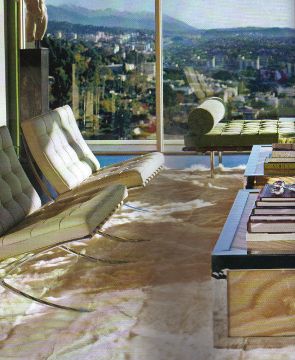 Throughout the house there are pieces of the collection from the photographs of Elton John, which is among the largest in the world and from the unique works of art signed by Damien Hirst, Wang Guangyi, Marc Quinn, Dale Chihuly, William Morris that are associated with historical pieces of design, such as the chairs and day bed are designed by Mies van der Rohe for Knoll.