Kitchen Okite design ideas | The perfect kitchen plan
Okite, the dream materials
Resistant to stains, heat and scratches: the kitchen floor Okite is designed to adapt to the activities that take place in an environment in which the surfaces are subjected daily to stimuli use and the risk of extended wear. Five times harder than granite the material is non-porous, easy to clean and requires no special maintenance or sealing operations. The equipment offered by Okite to the kitchen plans is made from 93 percent of quartz, mineral extremely durable and fascinating, which allows you to create unique and multifunctional plans, providing as a plus a ten-year warranty.
Warranty and reliability of the kitchen floor Okite
The strong resistance of the kitchen floor Okite protects it from stains of all those substances that are frequently used in the kitchen, including oil, coffee, wine and soft drinks. It comes with a certificate which material safe and hygienic, therefore lends itself to be used to make ready the work surfaces for food preparation. Its surface, in fact does not absorb the moisture or foods, it should not be protected with protective chemical materials and it is safe and hygienic to all members of the family. Its practicality and aesthetics also adds care for the environment, as it is demonstrated by the choice of materials from sustainable sources, the use of eco-friendly production processes, the quality certification and the research of strongly oriented moves towards more efficient use of natural resources.
Okite Brand
The brand Okite is marketed by SIC Srl (Italian Commercial Society), offers the public eleven different collections, available in 90 colors. The company offers wide range to choose from depending on your taste, the combinations and the needs that need to be answered.
Between the lines, the basic collection includes surfaces made exclusively in solid colors, with more than eight proposals that fit well in different dynamics. The Absolute White is ideal for minimalists and elegant, you can choose to make open spaces and strong visual impacts and then play with the combination of colorful accessories.
Launched in late 2011, the Sculpture Collection is inspired by nature to give unique endings, irregular and uneven and seductive curves. Made with a special molding technique used by the company, this collection can be molded into any shape and is suitable for all domestic interiors. Each slab is a unique piece and every time it is original.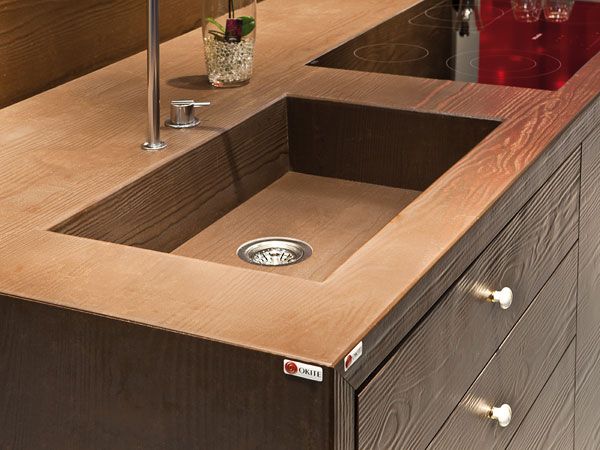 Another novelty is the Collection Precious Stones; all are made in the name of brightness and colorfulness. The purity and the irresistible allure of the precious stones allow you to make a special surface. The union with the light creates striking effects for a designing environment.
Tags In