Anteprina Cersaie 2012: Arblu presents Trendy Petrablu
During the show, which will be held September from the 25th till the 29th , Arblu will present a new shower tray. Here are the preview photos.
Arblu at Cersaie 2012, will present a novelty for the bathroom: the new Trendy Pietrablu shower trays are consisted of minerals and resins, which is a durable material, resistant and at the same time pleasant to the touch (as the stone).
The Trendy shower tray adapts to any type of space and if necessary an edge restraining made of the same material completes it. The corners or the special difficult dodges are not an obstacle; the Trendy shower tray can in fact be cut on all sides and it can adapt to any shape that is not curved. Trendy can be installed flush with the floor or supported in order to give continuity to the beauty of the surrounding surfaces and is available in four colors: white, cappuccino, cement and coal.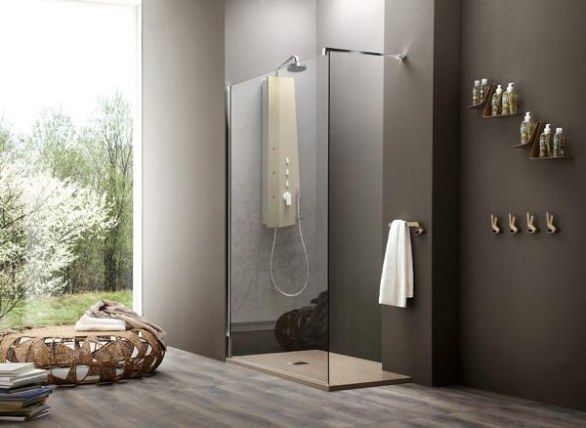 The Trendy shower trays have a height of 3 cm, a depth available in three sizes 70 – 80 – 90 cm, while the length that can vary from a minimum of 90 cm to a maximum of 180 cm. The Trendy allows you to have a complete relaxation area in vertically, with the use of Pietrablu  panels which are applicable to the walls: the ideal solution to create a real selection of health, even replacing the old bathtub. Such coatings have a thickness of 1.2 cm, maximum size in height of 54 cm and 290 cm in length and can be cut to size for each type of personalization.The Pietrablu Trendy shower trays are made of, antibacterial, anti-slip, stain resistant, thermal shock and UV.